The teen was gunned down Wednesday outside apartment in Scarborough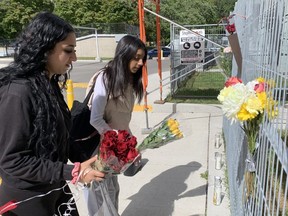 Friends and classmates of a 17-year-old boy killed Wednesday outside his Scarborough apartment building left flowers and candles at the spot where he fell after being shot multiple times.
"I literally talked to him an hour before he died. He was at school in class and I was on the phone with him," Roshani Zamany, who has known Zaybion Lawrence since she was in Grade 9, said Thursday.
Your Midday Sun
From our newsroom to your inbox at noon, the latest headlines, stories, opinion and photos from the Toronto Sun.
By clicking on the sign up button you consent to receive the above newsletter from Postmedia Network Inc. You may unsubscribe any time by clicking on the unsubscribe link at the bottom of our emails. Postmedia Network Inc. | 365 Bloor Street East, Toronto, Ontario, M4W 3L4 | 416-383-2300
She was in tears as she left a red balloon heart and a small bouquet of flowers for the friend she knew as "Zayb."
"I keep replaying his voice in my head," she said of their last conversation just before he was gunned down outside his apartment building on Gilder Dr., near Eglinton Ave. E., around 3:40 p.m.
"We literally talk to him every day," said Maiya Makki, who shared a photo of herself with Zaybion.
She was at work when the shooting occurred and found out about her friend's death just hours afterward.
"He was a loving man and he had a good heart. And this is just something he did not deserve at all. He was intelligent and he had a music passion," said Makki.
She and Zamany said Zaybion attended high school at David and Mary Thomson Collegiate Institute.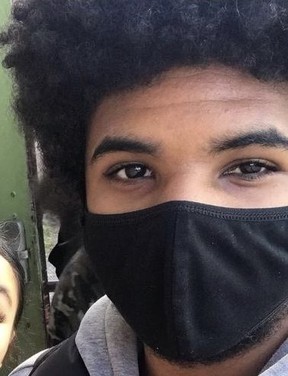 A stream of people gathered outside the front of the building to pray silently and leave flowers.
One local resident, Richard, said he heard five shots in all.
"We heard three shots all together. Kid was hiding behind the garbage bin, came out, three shots. Chased him from behind from about five or 10 feet. Shot twice from over there. The kid went down," he recalled.
"Looked off the balcony — and his friends were trying to help him. The child was right there. He was only a kid – 17 years old."
No suspect information has been released but witnesses said the shooter fled on foot heading west.
Another neighbour, Natalie, said her 13-year-old son played basketball with Zaybion.
"He was a really good kid. He would play basketball with the young kids," said Natalie, who also left flowers. "He came from a very good family. His mom is amazing and beautiful soul and this little boy deserves to be remembered and honoured because he was a good kid."
Local residents said a vigil was planned for Thursday evening.
Toronto Police Homicide detectives are investigating the boy's murder, which is city's the 52nd of the year.
Anyone with information is asked to call police at 416-808-7400 or Crime Stoppers anonymously at 1-800-222-TIPS (8477).
We apologize, but this video has failed to load.
SUMMER ENDS WITH SPATE OF VIOLENCE
It has been a violence two weeks across the GTA with the targeted murder of Toronto Police Const. Andrew Hong while on duty and the death of York Regional Police Const. Travis Gillespie, killed on his way to work by an alleged impaired driver in a head-on collision.
Here's a look at some of the other crime that occurred in Toronto as summer came to an end:
SEPT. 5 – Two suspected carjackers with a handgun approached a man near Bremner Blvd. and York St. and demanded his keys. The victim ran away. The would-be thieves fled empty-handed in a grey 2019-22 Jeep Grand Cherokee.
SEPT. 5 – A cabbie was flagged down by a man near Blue Jays Way and Wellington St. W. When the cabbie got out to put bags in the trunk, police said a man produced a knife, got into the driver's seat and drove off.
SEPT. 10 – A person who was shot made their own way to hospital with serious injuries after gunfire erupted near Keele. St. and Wilson Ave.
SEPT. 10 – Shalldon Samuda, 15, died after being shot near Keele St. and Sheppard Ave. W. Ellion Brown, 18, of Toronto, is wanted for second-degree murder.
SEPT. 10 – After reports of shots near Caledonia Rd. and Eglinton Ave. W., officers found a vehicle with damage from gunfire. There were no reports of any injuries.
SEPT. 11 – Officers found a man suffering serious injuries from gunshot wounds near Willowdale and Church Aves., southeast of Yonge St. and Finch Ave.
SEPT. 11 – A man was found at University Ave. and Adelaide St. suffering from a gunshot wound to the abdomen.
SEPT. 11 – A woman in her 20s was found with a gunshot wound to her abdomen near Eglinton Ave. and Russell Rd. in Etobicoke.
SEPT. 11 – Police recovered a discharged firearm at the Rolling Loud music festival at Ontario Place after reports the night before of gunshots near the mainstage VIP area.
SEPT. 11 – Two men were hospitalized after gunfire erupted inside at Club Paradise, a strip club near Bloor St. W. and Lansdowne Ave.
SEPT. 18 – A woman in her 20s was shot and injured while sitting in a car near Augusta Ave. and Queen St.
SEPT. 18 – A man suffered stab wounds after a late-night argument with a group outside a bar near Bloor and Christie Sts.
SEPT. 20 – A 24-year-old man died and a 25-year-old man was rushed to hospital with life-threatening injuries after a stabbing on a bike path near Jane St. and Finch Ave. W.
Haroon Imran, 22, of Toronto, is charged with manslaughter and aggravated assault.
SEPT. 20 – Veronica Henry, 67, and Colin Henry, 68, were stabbed to death in an apartment building in Rexdale. Their son, Alpha Henry, 28, is charged with two counts of first-degree murder.
SEPT. 21 – Zaybion Lawrence, 17, was gunned down and killed after school near Gilder Dr. and Eglinton Ave. E. in Scarborough.