'Hero' Halted Plans for July 4 Mass Shooting; 223 Rounds of Ammo Seized
'Hero' Halted Plans for July 4 Mass Shooting; 223 Rounds of Ammo Seized
An individual described by police in Virginia as a "hero citizen" helped to halt a possible mass shooting incident on the Fourth of July.
During a press conference on Wednesday, the Richmond Police Department announced that on July 1, a "hero citizen" overheard a conversation about a potential mass shooting incident to take place at a Fourth of July parade in the city. The "hero citizen" alerted the police, who then launched an investigation and were able to arrest two individuals and seize two rifles, a handgun and over 200 rounds of ammunition.
The announcement on Wednesday comes just a few days after at least seven individuals died in a mass shooting incident during a Fourth of July parade in Highland Park, Illinois.
On Monday, authorities in Illinois arrested Robert E. Crimo III for allegedly carrying out the mass shooting incident, that left dozens of others injured, in addition to the seven that died.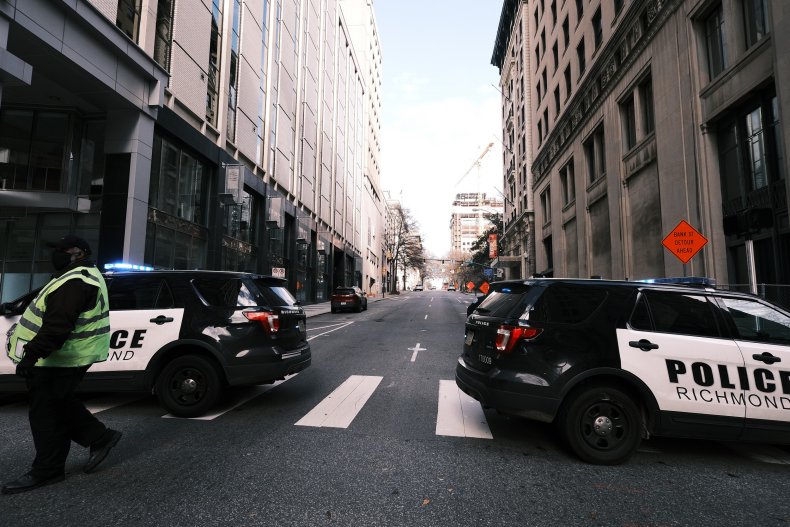 Police said that Crimo dressed in women's clothing to disguise himself and climbed to the roof of a building near the parade. He fired more than 70 rounds from a legally purchased weapon and was able to successfully escape the scene by using the disguise. On Wednesday, officials announced that Crimo admitted to carrying out the shooting incident in Highland Park.
During the press conference on Wednesday, Richmond Police Chief Gerald Smith said that an individual identified as 52-year-old Julio Alvardo was taken into custody shortly after police discovered the firearms and ammo on July 1.
"He was charged with being a non-U.S. citizen in possession of a firearm," Smith said.
As the investigation continued, officers discovered a second subject believed to be connected to the possible mass shooting incident, identified as 38-year-old Rolman Balacarcel.
Balacarcel was arrested on July 5 and faces the same charges as Alvardo. The two are currently in jail in Richmond.
"The success of this particular investigation can only be juxtaposed against the horrors that the rest of the country has seen," Smith said. "There is no telling how many lives this hero citizen saved from one phone call…one phone call saved numerous lives on the Fourth of July and moving forward we implore everyone, if you see something, say something."
During the press conference on Wednesday, Richmond Mayor Levar Stoney also spoke about the incident and said that gun violence in the U.S. is currently an "epidemic."
"Unfortunately because of the proliferation of these weapons of war and who can get their hands on them, whether you are at home in your cul-de-sac, or in your neighborhood, or in a park, or at a parade, out dying, you have to keep your head on a swivel," Stoney said.
Update 06/07/22, 3:10 p.m. ET: This article was updated with additional information.
Copyright 2011-2021. All Rights Reserved