The 10 Best Hammocks for Maximum Relaxation This Summer
The 10 Best Hammocks for Maximum Relaxation This Summer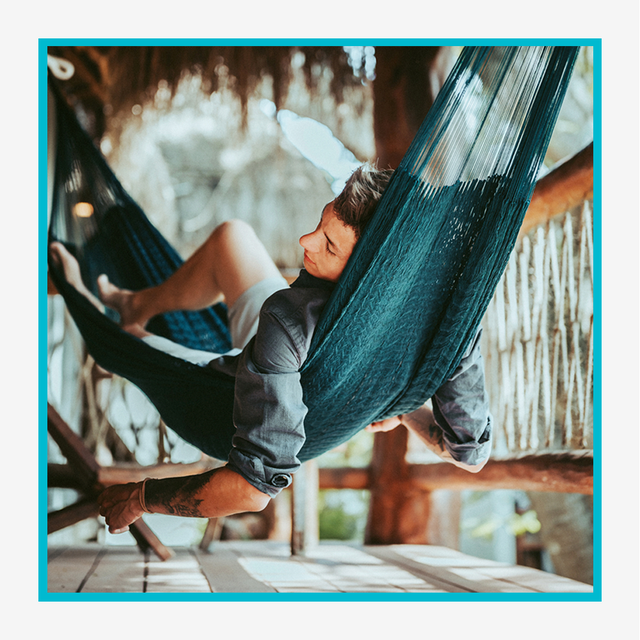 Courtesy of retailer
You've mowed the lawn, watered the garden, and played catch with the kids—it is now time to lounge. But it's just so damn nice out. Why, when you've spent the rest of the day outside, go chill indoors? We have the gift of hammocks, after all. Swaying in the backyard with a beer rested on your chest is an American right, we think. So, depending on what kind of lounger you are, and what kind of backyard you have, we've picked the best hammocks for you and your needs.
Read More: Best Outdoor Furniture
Creating the perfect outdoor lounging setup is no easy feat, which is why we went ahead and tested the best options for you. Below, you'll see our favorite hammocks for every type of setting and why. Sway on.
Read More: Best Outdoor Furniture to Buy on Amazon
Best Hammock Overall
Presidential Duracord Rope Hammock
Made with All-Weather DuraCord
Looks great for any backyard
Overall Dimensions: 156 x 65 inches
Bed Length: 82 inches
Weight Capacity: 450 lbs
Pawleys Island is the OG American hammock maker. They've been building high-quality hammocks out of the Carolinas since 1889. That's why it has that classic, can-stand-it-all look. You'll be nestled in history. But that's not all. The brand's rope is DuraCord, which makes it perfect for any weather, including rainy days. Plus, it's big enough to suit one or two people. The only thing we didn't love about this option is its premium price point.
Best Hammock for Two People
Bening Double Hammock
Easy assembly for a stand or trees
Affordable
Stand and chains not included
Dimensions: 135 x 55 inches
Bed Length: 74 inches
Weight Capacity: 450 lbs
Yeah, you can lounge in a hammock all by yourself, but if you want a buddy to hang around with, this is the hammock for you. Of course, there's nothing wrong with taking all this space up for yourself, either. We love the idea of sharing this hammock with a partner—especially since it's made with a sturdy wooden spreader that'll keep the tough material flat (which means you don't have to worry about rolling into each other as you sway). The affordable, under-$77 price point isn't bad, either.
Best Hammock for Camping
DoubleNest Hammock
Lightweight and easy to pack
Easy to set up between two trees or poles
Ideal for backpacking and camping
Dimensions: 112 x 74 inches
Weight Capacity: 400 lbs
For the occasional lounger, or one with a fire escape as opposed to a backyard, a camping hammock is ideal in that it stuffs down and stores easily, and is a breeze to assemble (and you can't deny its versatility). We're particularly fond of the DoubleNest, which is roomy enough to hold two (or maybe three) people. This editor's taken it with her for multiple camping trips, and it's always a hit among the crowd for kicking back and enjoying the views. Plus, depending on how you set it up between two trees, you can use it as a traditional hammock or as a hammock chair.
Read More: Best Camping Hammocks
Best Hammock Chair
Hammock Chair Hanging Rope Swing
More structured to function like an upright chair
Features side pockets big enough to hold a phone, a book, or a drink
A little tough to get up from
Dimensions: 52 x 40 x 50 inches
Weight Capacity: 320 lbs
Okay, maybe it's a hammock chair. But there are still ropes, it's still made of fabric, it still hands from a tree, and you can still lounge and swing. Plus, have you tried reading the paper in a traditional hammock? Total nightmare. An upright hammock chair fixes that. Aside from the plush cushions that make this more or less a suspended armchair (sans arms), this thing is easy to sink into. But keep that in mind—it's a little tougher to get out of than simply rolling onto your two feet.
Best Hammock for All-Day Lounging
12 ft Rope Hammock Combo
Features a cup holder, a tablet case, pillow, and pad
Stand included
Under $200
Can't hold as much weight as others
Dimensions: 142× 52 × 46.5 inches
Bed Length: 115 inches
Weight Capacity: 275 lbs
This is a hammock to make a home of. It comes with its own sturdy wood stand, a pillow and pad to lay over the classic woven rope design, a cup holder (yes, really) and a media case to slide your Kindle into when you being to doze off. There's really not much to dislike about this option, which seems to have it all—including a stand. It's even on the more affordable side compared to other versions on this list. The only thing we're missing is a larger weight capacity—as it can only hold 275 pounds.
Best Quick-Drying Hammock
14 FT Quick Dry Hammock
14 feet long
Made with vinyl-coated weather-proof, fabric for easy clean up
Affordable
Dimensions: 168 x 55 inches
Bed Length: 77 inches
Weight Capacity: 450 lbs
If you're going for style points with your warm-weather lounging, opt for a hammock with a patterned, fabric base. This oversized one is quick to dry so if you forget to bring it in during a rainstorm—or if it's gotten through a light shower—you'll be able to jump back on in no time.
Best Fabric Hammock
Brisa Tree Hammock
Can be used indoors and outdoors
Minimalist design
Stand and tree straps not included
Lower weight capacity
Dimensions: 138 x 63 inches
Weight Capacity: 355 lbs
Sometimes, you just want a simple cloth hammock to add a stylish and bohemian-inspired touch to your setup—whether that's on your back patio or in your home. This breezy style from La Siesta is sturdy and designed to have more even weight distribution (perfect for those who intend on sharing it). And if you don't want a cream-colored hammock, it's available in seven other colors.

Best Cord Hammock
Backyard Duracord 55″ Hammock
Made with weatherproof DuraCord
Comes with rust-resistant steel hardware
Stand not included
Pricey
Dimensions: 156 x 55 inches
L.L. Bean's rope hammock is made with DuraCord, which wicks away moisture (should you be lounging on a hot day and get too sweaty) and is mold and mildew resistant so you can leave it out in the rain. We suggest this hammock—which comes with rust-resistant hardware for installation—for anyone who wants a more rustic look to their backyards and prefers to have minimal upkeep for their outdoor furniture.
Best Hammock with Stand
Beideman Double Classic Hammock with Stand
Adjustable stand included
Easy to assemble
Not as sturdy as other optons
Lower weight capacity
Dimensions: 158 x 40 x 56 inches
Bed Length: 94 inches
Weight Capacity: 330 lbs
Hey, look at it roll! If your backyard shade situation changes drastically over the course of a day, a hammock with a roving base is suitable so you can always position it in the most comfortable spot in the yard. The stand, which can be adjusted for width and height, will work with hammocks up to 15 feet long. In other words, you can use this with the hammock included or another favorite, depending on your mood. It's not the sturdiest of the bunch, so keep that in mind if you're looking for a hammock for two people.
Best Hammock for Families
Quilted Sunbrella Hammock
Durable
Great for the family
Pricey
Stand and head pillows not included
Dimensions: 156 x 55 inches
Bed Length: 82 inches
For a softer, more pillowy summer sway, opt for a quilted hammock with a cushioned surface as opposed to the classic netted look. This one is mildew-resistant and made in the USA. We love the size of this, which is big enough to fit two adults or multiple kids. Plus, the hammock is reversible, with stripes on one side and a solid color on the other. The main downside here is the price. At $379, it's the most expensive on the list. However, if you're open to making an investment, you won't go wrong with this classic.
Whether you're planning to add a little R&R to your summer afternoons with the help of a soothing nap under the shade of your trees or you want something to add to your weekend camping trips, there's a hammock for every setting. Of course, finding the best hammock for you is easier said than done—especially when you're considering when, where, and how you'll be using it.
Type
First and foremost: Type. While the first image of a hammock that comes to mind may be a simple rope or fabric one, there are a number of different styles out there. Maybe you're looking for a classic hammock with a stand to keep anywhere in your backyard. Or, perhaps you're searching for a camping hammock that'll slip easily into your camping backpack. Regardless, you'll want to keep the material in mind, too. Do you want rope and cotton for aesthetic purposes, or would you prefer a material that's not only stylish but also quick-drying?
Measurements
The size of your hammock will depend on how and where you intend to use it. How long do you need it to be to suit you or anyone else who might use it? And remember—the length of the hammock itself will be different from its overall weight. Most of the options we selected were at least 13 feet long, which will work for most adults. If you're looking for a double hammock for two people, look for styles that are on the wider side, around 55 inches.
The moments spent lounging beneath the summer sun are important—which is why we tested multiple hammocks to see which ones will hold up to your needs. We considered the most popular hammocks with a critical eye towards factors like comfort, stability, durability, style, and price. Along with our own testing, we consulted customer reviews to create a comprehensive list of the best hammocks to use this summer.
This content is created and maintained by a third party, and imported onto this page to help users provide their email addresses. You may be able to find more information about this and similar content at piano.io
Copyright 2011-2021. All Rights Reserved