'Mob Psycho 100' Gets Third Anime Season
'Mob Psycho 100' Gets Third Anime Season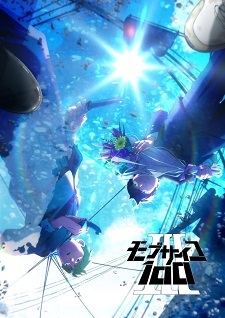 The official Twitter account of the Mob Psycho 100 anime series announced a third season on Tuesday. The official website also revealed the main staff, a teaser visual (pictured), and announcement promo. The voice cast are returning from the previous seasons.
Staff

Chief Director: Yuzuru Tachikawa (Death Parade)

Director: Takahiro Hasui (SK∞ episode director)

Series Composition: Hiroshi Seko (Jujutsu Kaisen)

Character Design: Yoshimichi Kameda (Mob Psycho 100)

Music: Kenji Kawai (No Guns Life)

Sound Director: Kazuhiro Wakabayashi (Godzilla: S.P)

Studio: Bones
Mob Psycho 100 adapts ONE's supernatural comedy manga, which ran in Ura Sunday from April 2012 to December 2017. Shogakukan published the 16th and final volume in July 2018. The manga has over 1.2 million copies of its compiled volumes in circulation.
The first season aired in 12 episodes in Summer 2016. The Reigen – Shirarezaru Kiseki no Reinouryokusha (Reigen – The Miraculous Unknown Psychic) special, summarizing the first season and featuring commentaries by Reigen Arataka (Takahiro Sakurai), debuted in March 2018.
The second anime season aired in 13 episodes in Winter 2019, adapting till the beginning of the 13th volume. Warner Bros. Japan pre-screened the Dai Ikkai Rei toka Soudansho Ian Ryokou – Kokoro Mitasu Iyashi no Tabi (The First Spirits and Such Company Trip – A Journey that Mends the Heart and Heals the Soul) original video anime in July 2019 before shipping it on home video in September that year.
Funimation licensed the anime series in North America and released both seasons in December 2017 and last June. Dark Horse Comics licensed the manga in English in April 2018 and shipped the sixth volume last October. The seventh volume is planned for an October 27 release. The publisher also released the Reigen: Reikyuuchi Max 131 no Otoko (Reigen) spin-off manga last December.
Mob Psycho 100 won the 62nd Shogakukan Manga Awards under the Shounen category in 2017.
Announcement
Source: Official Twitter
Copyright 2011-2021. All Rights Reserved