Runner Celebrates Win Too Early, Gets Beaten at Finish Line in Viral Video
Runner Celebrates Win Too Early, Gets Beaten at Finish Line in Viral Video
A runner who stopped just feet before the finish line to celebrate his apparent victory was beaten by a fellow athlete who charged ahead of him.
Mateo Bustos was on his way to clinch first place in the Sagunto triathlon in eastern Spain on Sunday when he slowed down to clench his fists and perform a foot trick in front of onlookers.
Fellow competitor Germán Cister used the opportunity to run up behind Bustos, overtaking him and striding across the finish line with just a few feet between the pair.
A spectator captured the embarrassing moment on film, as well as the surprised reactions of other onlookers.
The faux pas has garnered more than 650,000 views since it was first uploaded to Twitter on Monday.
"Stop posing now! Seriously," Twitter user Gotet de Modernor wrote alongside the 21-second clip as hundreds of viewers rushed to ridicule Bustos in response.
"The important thing is to participate … even if you make a fool of yourself," one person said. "Confidence killed the cat," another added.
Bustos, who is represented by the Benitatxell Multiesport Club, seemed undeterred by the events and later shared a snap celebrating his second-place achievement on Instagram.
A similarly premature win had another runner red-faced when Oregon Senior Tanguy Pepiot was filmed celebrating his victory just moments before crossing the finishing line during the Pepsi Team Invitational back in 2015.
Pepiot turned to the crowd to cheer on his seemingly imminent win but was overtaken by Washington's Meron Simon, who passed Pepiot at the finish line to clinch victory.
On a more positive note, a video of a high-school student and cross-country runner recovering from cancer being helped across the finish line by her relay teammates went viral on social media last month, in a message of inspiration to thousands.
The Shenendehowa Athletic Program shared the video on Twitter, writing: "What a great moment to see Senior Yeva Klingbeil at today's girls track and field meet. Yeva's teammates help her across the line in the 4X1 relay. Yeva continues her fight with cancer and we continue to be amazed by her spirit!!"
In the video, Klingbeil is seen walking arm in arm with her three teammates. Once they cross the finish line, they are met with cheers as the crowd chants: "Yeva! Yeva! Yeva!"

The video has been viewed more than 263,000 times on Twitter and has inspired thousands of viewers. "What a beautiful, loving tribute to a teammate. Kids really understand sportsmanship and humanity," one person said.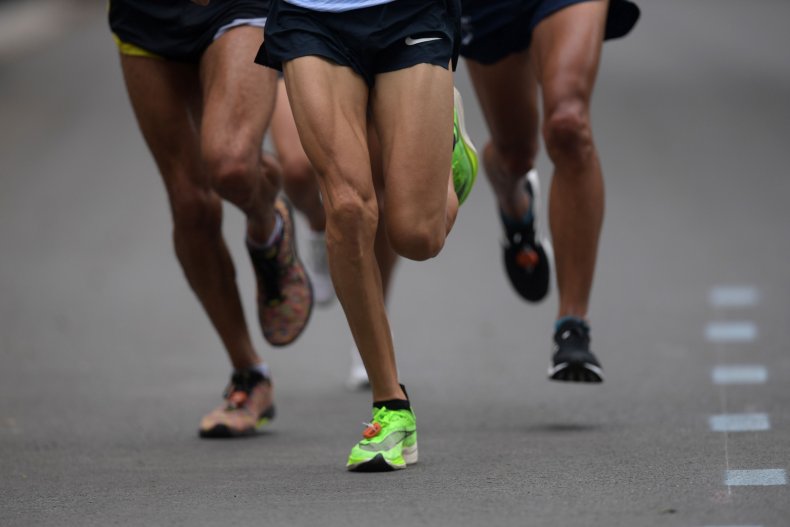 Copyright 2011-2021. All Rights Reserved